---
The back-to-school season is here, and with it comes the excitement of back to school shopping clothes. It's time to refresh the wardrobe for the new academic year. Whether you're a parent preparing your kids or a college student looking for a fresh style, we've compiled the top clothing essentials and trendy pieces to kick off the new year with style. From uniforms to casual wear, our guide will help you navigate the best options for every student's needs.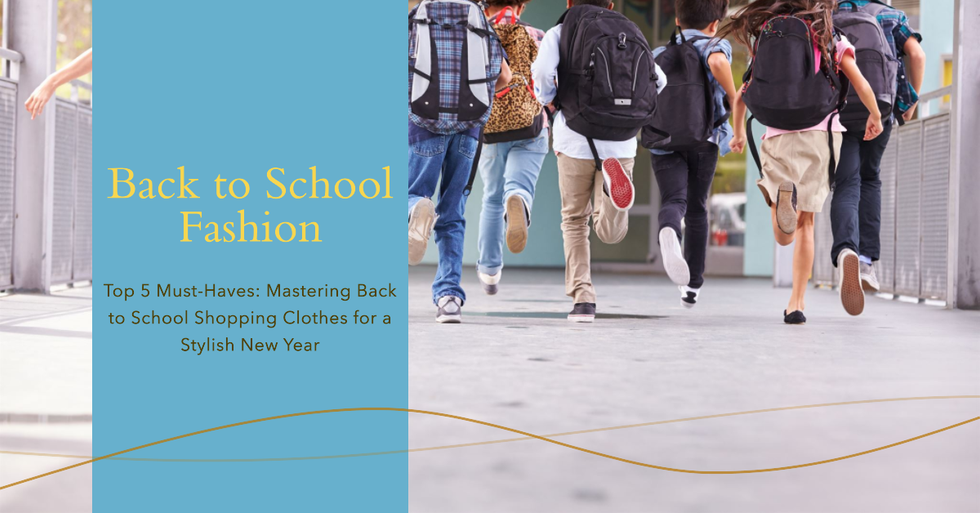 1. Uniform Essentials
For those attending schools with uniforms, finding high-quality, comfortable pieces is a must. Check out Amazon for durable and classic uniform items that will last throughout the year.
2. Casual Wear for After School
Casual wear is all about comfort and individual expression, especially after a long day at school. From jeans to T-shirts, building a versatile casual wardrobe is essential for any student. Here's a breakdown of key casual wear items to consider:
Jeans and Pants: Whether it's classic blue jeans, comfortable joggers, or stylish chinos, a variety of bottoms allow for endless outfit combinations. Consider different cuts and fits to match your personal style.
T-Shirts and Tops: Basic tees, button-down shirts, and casual blouses are must-haves. Having a selection in different colors and patterns ensures you have the right top for any casual occasion.
Sweaters and Hoodies: For cooler weather, sweaters and hoodies add warmth without sacrificing style. Look for trendy graphics or timeless solids to match your tastes.
Footwear: Casual shoes like sneakers, flats, or sandals are essential for daily wear. Choose comfortable pairs that can easily transition from school to weekend outings.
Outerwear: Jackets, windbreakers, or casual coats are perfect for layering when temperatures dip. Investing in quality outerwear ensures you'll stay cozy in style.
Accessories: From hats to scarves, casual accessories can add personality to an outfit. Even a simple wristwatch or a pair of sunglasses can make a statement.
Building a casual wardrobe doesn't have to be expensive. Look for sales, shop at discount stores, or even explore thrift shops for unique finds. Mixing and matching different pieces allows you to create fresh looks without constantly buying new items. With the right selection of casual wear, you can express yourself freely and comfortably, whether you're hanging out with friends, working on a project, or simply relaxing at home.
3. Athletic Wear for Sports & Activities
Participating in sports or physical activities requires comfortable and functional athletic wear. From moisture-wicking shirts to supportive footwear, having the right clothing can enhance performance and enjoyment. Whether you're into team sports, individual activities, or fitness classes, invest in quality athletic apparel that fits well and suits your specific needs. Shopping at stores that specialize in sportswear can provide a variety of options tailored to different activities, ensuring you find the perfect gear for your active lifestyle.
4. Accessories to Complete the Look
Accessories aren't just decorative; they often serve practical purposes too. A stylish backpack can carry books and laptops, a sleek belt can tie together an outfit, and a well-chosen hat or scarf can add flair to your look. Consider what you need for your daily routine and find accessories that both look good and make your life easier. Whether it's a statement necklace to dress up a uniform or a sturdy pair of sunglasses for outdoor activities, the right accessories can add the finishing touch to any outfit. Remember, it's not just about the clothing; accessories can make or break a look, so choose wisely!
5. Sustainable Options for the Eco-Conscious
Sustainability is more than a trend; it's a conscious decision to make environmentally responsible choices. For those looking to align their back-to-school shopping with eco-friendly principles, there are plenty of sustainable clothing options available. Look for garments made from organic, recycled, or renewable materials. Many brands now offer collections that prioritize sustainability, using responsible production methods and ethical labor practices. Shopping second-hand is another great way to reduce environmental impact. From vintage treasures to gently used basics, thrift stores and consignment shops can be goldmines for unique and affordable pieces. Embracing sustainable fashion doesn't mean compromising on style; it means shopping with intention and choosing items that reflect both your aesthetic and your values.
Tips for Smart Back-to-School Shopping
Set a Budget: Determine how much you're willing to spend before hitting the stores. It helps to keep spending under control.
Make a List: Know what you need before you shop. Having a list ensures you won't forget essential items.
Shop Early: Start shopping before the rush to take advantage of sales and have more time to find the perfect pieces.
Use Coupons & Discounts: Keep an eye out for special offers from retailers like [Discount Store C][LINK] to save money on your purchases.
Back-to-school shopping doesn't have to be a stressful experience. With careful planning and a keen eye for quality and style, you can find the perfect clothing and accessories to start the new school year with confidence. Explore the links above for some fantastic options, and happy shopping!